Former Brazilian Football Confederation (CBF) president Marco Polo del Nero has been banned for life for bribery and corruption by FIFA.
Del Nero also a former FIFA executive committee member, was also fined a million Swiss francs (£733,000).
He was indicted by the US Department of Justice in 2015 in its investigation of international corruption linked to broadcasting contracts of football competitions.
Del Nero resigned from the Fifa ruling committee in 2015, but he continued to lead Brazil's football body until being provisionally suspended by the Fifa ethics committee last December.
Del Nero fled Zurich in May 2015 to return to Brazil when other Fifa colleagues were detained in a wave of arrests. Hours later, US federal prosecutors unsealed the scope of their case.
More than 40 football and marketing officials and marketing agencies have been convicted, are awaiting sentence after pleading guilty, or have been indicted in the case that has seen defendants agree to forfeit more than 200m dollars in criminal gains.
Del Nero's indictment was unsealed in December 2015 after a second round of arrests at the same five-star hotel in Zurich.
FIFA's ethics committee waited two more years before suspending him from office.
Charges found proven against Del Nero included bribery and corruption, offering and accepting gifts and other benefits, and conflicts of loyalty, FIFA said in announcing the verdict of its ethics judges.
The case against him involved bribes related to the Copa America, Copa Libertadores and Brazil Cup.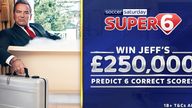 Play Super 6
Could you be the next Super 6 £250k jackpot winner? Enter your predictions for free here.